ASRock
ASRock X570 TAICHI RAZER Edition Motherboard
Regular price
$659.00 SGD
Regular price
Sale price
$659.00 SGD
Unit price
per
Sale
Sold out

ASRock X570 Taichi — Razer Edition
For Gamers. By Gamers
Developed in partnership with Razer, this board combines ASRock's signature quality and durability with gorgeous lighting Razer is known for. This ATX motherboard is based on AMD X570 chipset and has 16 Power Phase Design, DDR4 4666+ (OC) support, PCIe 4.0 for VGA and M.2 SSD, and Killer network optimized for gaming. So you'll have all the essentials needed to build your new dream system based on the AMD Ryzen 5000 Series processors, for gaming, designing, engineering and content creation.
ASRock x Razer
The COOLEST flagship motherboard, ASRock Taichi, stands out for its incredible OC performance and premium specification. Here comes the new version, Taichi — Razer Edition, which is the world's first motherboard natively integrated with Razer Chroma RGB lighting. It is the ultimate control center for all things Chroma RGB, and enables universal compatibility with thousands of ARGB components directly into the ecosystem.
Razer Chroma
Razer Synapse 3 allows you to customize the lighting on your motherboard and other Addressable RGB (ARGB) devices connected to the motherboard's headers. To set up, follow these steps:
1. Plug your ARGB LED strips or devices into any of the 3-pin 5V ARGB headers on the motherboard.
2. Download Razer Synapse 3 from razer.com/synapse then install and login.
3. Use Razer Synapse 3 to access in-depth lighting customization options; and integrate games and applications across your ARGB and Razer Chroma-enabled devices for a truly immersive experience.
Lighting effects
THE POSSIBILITIES ARE ENDLESS
With 16.8 million colors and a suite of unique lighting effects, our iconic RGB lighting system has made its way onto the battlestations of gamers worldwide. Whether it's enhancing your immersion through Chroma-integrated games, or designing your dream gaming setup, we offer a level of RGB lighting customization that can't be found anywhere else.
CHROMA STUDIO
If you're looking for an RGB lighting effect that's truly unique, tweak and tinker to your heart's content with our Chroma Studio—where you can modify our existing effects or design your own.
CHROMA CONNECT
From one convenient dashboard, sync up all your Chroma-enabled devices with Chroma-integrated games and applications for a truly immersive lighting experience. To make the most of this, stay up to date with our latest developments by visiting the Chroma Workshop.
CHROMA VISUALIZER
Enjoy a dynamic level of audio visualization with colorful sound waves that jump up and down on your device as you play your favorite music, games, and videos.
Killer Networking
Killer Ethernet E3100 and Killer Wi-Fi 6 AX1650, designed specifically for competitive gamers and performance-hungry users, prioritize real time packets over other packets and offer an uninterrupted online entertainment experience.
Killer DoubleShot Pro
Killer DoubleShot Pro enables massive throughput and unbeatable online performance for systems that have both the Killer Wireless and Killer Ethernet products. DoubleShot Pro enables your computer to use Wi-Fi and Ethernet at the same time. It automatically utilizes the fastest network connection (Ethernet or Wireless) for all of the PC's high priority traffic, and all standard traffic is then sent over the other interface.
Speed: DoubleShot Pro Technology delivers the maximum speed and throughput possible for your computer by allowing your computer to use all of your network adapters at the same time.
Intelligence: Killer DoubleShot Pro utilizes the Killer Prioritization Engine to automatically classify and prioritize high priority traffic like online games, streaming video, and high quality audio to be handled by the systems fastest network interface (the Killer Wi-Fi or the Killer Ethernet). This will provide users with a higher quality experience with fewer interruptions.
Maximum Control: Utilize the Killer Control Center 2.0 to see and manage which network connection your applications are using. Set limits using Visual Bandwidth Control or shut them down completely with application blocking, so they don't interfere with higher priority apps.
Nahimic Audio
Whether you are using headphones, a headset, external or internal speakers, via USB, Wi-Fi, analog output or even HDMI, Nahimic Audio offers you the most engaging listening experience, vibrant and rich with details.
Surround Sound
Feel the immersion, feel the sound as if you were in the heart of the action.
Device Compatibility
Nahimic is compatible with all of your favorite audio tools and ensures the best sound with any of them.
Sound Tracker
The Sound Tracker is a visual indicator that points out the directions from which predominant sounds are coming.
Volume Stabilizer
Nahimic takes care of your eardrums and maintains a constant volume for all elements of your audio experience.
Voice Stabilizer
Nahimic dynamically clears the sound, removes interference noise and lower the voice variation.
Night Mode
Night Mode is a smart volume reduction, keeping the media content intelligible.
Backplate
Strengthens the motherboard to prevent bending caused by heavy coolers or graphics cards with better airflow and enhanced stability.
Flexible Integrated I/O Shield
Unlike most so called pre-mounted I/O shield that is only decorated with fancy color schemes. We reserve more tolerance space and allow I/O shield to be adjustable when installing, thus fitting chassis perfectly without any mechanical issue.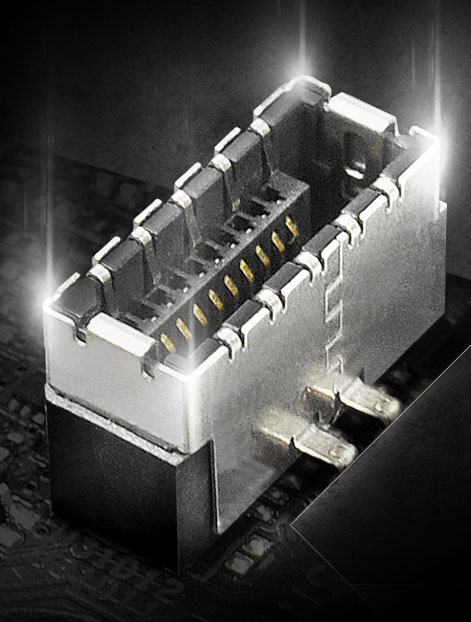 Front USB 3.2 Gen2 Type-C
Front USB 3.2 Gen2 Type-C header delivers up to 10 Gbps data transfer rate and next generation reversible USB design to the front panel of computer case.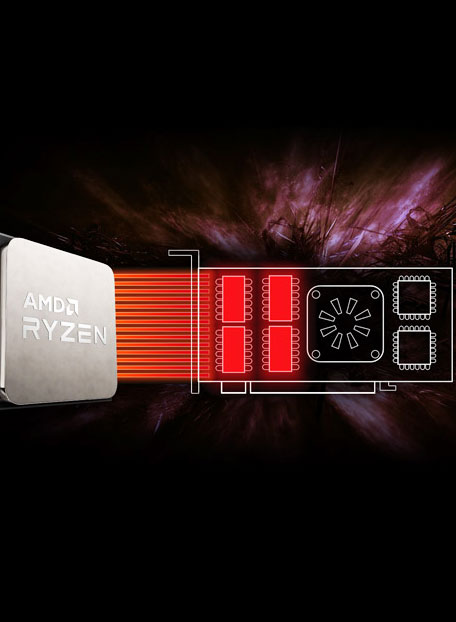 AMD StoreMI Technology
AMD StoreMI technology "combines" these two types of storage into a single drive and automatically moves the data you access the most to the SSD, so you get the best of both worlds.
PCIe 4.0 For Everyone
The AMD X570 chipset makes PCIe possible for anyone who wants higher performance, bandwidth and speed.
Supports PCIe 4.0 x8/x8 mode
This motherboard supports the multiple GPU technology that supports PCIe 4.0 x8/x8 mode. Boost the extreme performance for the games that is Microsoft DirectX 12 or Vulkan ready.
Dual M.2 Sockets for SSD with Unbeatable heatsink armor
Hyper M.2 socket that supports PCIe Gen4 x4 while Ultra M.2 socket is capable of running PCIe Gen3 x4 and SATA 3 mode.
Reinforced Steel Slot [PCIe 4.0 Version]
The reinforced steel slot comes with the various benefits including extra anchor points and stronger latch, ensuring signal stability and making sure heavy graphics cards to be well-installed.
16 Power Phase Design
Featuring sturdy components and completely smooth power delivery to the CPU. It offers unmatched overclocking capabilities and enhanced performance for advanced gamers.
Premium 60A power choke
ASRock's premium 60A power chokes make the saturation current up to three times better, providing enhanced Vcore voltage to the motherboard.
Dr. MOS
Dr.MOS is the integrated power stage solution which is optimized for synchronous buck-set down voltage applications, providing improved thermal result and superior performance.
Nichicon 12K Black Caps
Supreme 12K black capacitors with lifespans of at least 12,000 hours, offering 20% longer lifespans and providing more stability and reliability.
2oz Copper PCB
Using only carefully selected copper materials for PCB layers, 2oz Copper PCB delivers lower temperature and higher energy efficiency for overclocking.
Hi-Density Power Connector
Reduces 23% power loss and decreases the connector's temperature by 22 degrees Celsius.
Share